Acute and Chronic pain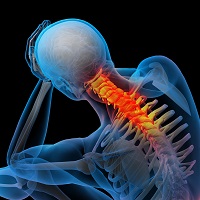 Pain is a universally distressing feeling, and an unpleasant physical and emotional experience, either acute or chronic. It hurts. It is stabbing or throbbing pain. It is prickly sensation. It is violent. It is simply distraction no matter where the pain is. If the acute pain lasts through 6 months or more of periodic or remitting episodes, the pain become chronic.

Acute pain is often reflection of events in your body, is tied to its source if you notice it at all. It is a message that body sends it to you after trauma such as bodily injury or abnormal physical /emotional state. Acute pain is often a protective warning that body requires you to take immediate action to correct it.

Chronic pain is much more complex than acute one. Not only does this disease respond to standard medical treatment poorly, but also has uncertain origins of the pain. The sensory nerve system is affected by many other factors such as pain medications, culture, personality and others. Chronic pain disables millions of people across the world.
How does acupuncture work to relieve pain?
Acupuncture is well known for its promising analgesic effects. Many studies demonstrated that It helps relieve the pain by stimulating the release of endorphins (natural painkiller) in your brain, promoting the blood circulation and direct muscular relaxation. From traditional Chinese medicine (TCM)'s perspective, pain is a result of blockage in our body and the disharmony of Qi-Blood or Yin-Yang, and TCM is able to regain the Yin-Yang balance and to eliminate this blockage by stimulating Qi and Blood flow in meridians, thus it can achieve therapeutic purpose.
How we successfully help patients with acute and chronic pain.
While some kind of acute pain may be relatively easier to be cured, many pain conditions such as chronic pain syndrome are complex and difficult to be treated. According to the 2011 report from Institute of medicine of National Academy, about 100 million of Americans are suffering from chronic pain annually. The treatments for acute and chronic pain are as diverse as the causes ranging from pain medications, surgery and psychotherapy to alternative therapies such as acupuncture, meditation and nutritional supplements.

At A1 Clinique Chinoise, we make best effort to help you get rid of pain as fast as we can. Yi Ding Yuan, founder of the clinic, has treated more than 8000 patients over past 30 years. His vast experience will help you restore your well-being to optimal state instantly and effectively. His approach is unique, holistic and effective.
Unique: Yi Ding Yuan understands that accurate diagnosis is the key for successful treatment of any illness. Taking into consideration of complexity of a pain condition, he has adopted and developed distinct TCM diagnostic techniques over past 30 years by employing multiple TCM diagnostic techniques simultaneously. It is unique since most of acupuncturists and TCM doctors use single method to make diagnosis.
Holistic: pain is just warning signal that body sends it to you during a trauma or process of illness. There are many underlying factors contributing to your pain. We are not only able to manage your pain quickly, but also to address underlying causes. During first office visit, the complete review and analysis of your health state, medical history and lifestyle will be conducted and a personalized treatment plan will be prepared. The plan contains concrete treatment objectives, nutritional recommendations and lifestyle guidance.
Effective: 30 years of professional experience and passion make difference for a treatment. Since many pain conditions require the involvement of different therapies in a comprehensive treatment program, our clinic is able to provide patients with acupuncture, manual therapy, Chinese herbal therapy and nutritional supplements in a single treatment session. Al these high-quality therapies are performed by Yi Ding Yuan, a medical graduate from Shanghai University of Traditional Chinese Medicine and a career practitioner of TCM in Canada.
Common pain conditions treated in the clinic
Headache/migraine: tension headache, cluster headache, various types of headache, migraine
Neck and back pain: torticollis, neck muscular spasm, herniated disc, arthritis, pinched nerve, low back pain, sciatica, Spondylolysis, spinal stenosis, etc.
Shoulder pain: tendonitis, bursitis, capsulitis, frozen shoulder, etc.
Arm and hand pain: carpal tunnel syndrome, pinched nerve, tendonitis, arthritis, trigger fingers, tennis elbow, golfer elbow, etc.
Internal body pain: chest pain, abdominal pain, gastro-intestinal pain, kidney stone/gallbladder stone, premenstrual pain, etc.
Knee/Leg/foot pain: sciatica, arthritis, tendonitis, neuropathy, hip bursitis, knee osteoarthritis, meniscus injury, torn ligament, plantar fasciitis
Stress-related pain
Organ-related pain
Expertise in