Digestive disorder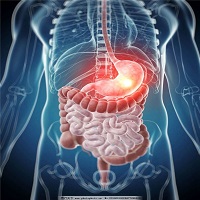 Digestive system runs from your mouth to anus. Most common digestive disorders are Indigestion, acid reflux, irritable bowel syndrome, inflammatory bowel diseases such as ulcerative colitis and Crohn's disease. Stomach ulcer, Gastritis, bacteria H. Pylori in stomach, bacteria imbalance in intestinal system, Celiac disease, Gallbladder stone and impaired liver function are frequently reported and treated. The causes may include physical and mental stress, bad eating habits, hereditary factor, antibiotic abuse, toxin exposure, but most of time the causes are unclear. While some of disorders may be managed by medical treatments, most of diseases become chronic and are a big threat to a patient's quality of life. Moreover, Long-term digestive dysfunction results in many other diseases.
Medical view of digestive disorder
There are very limited effective medical treatments for most digestive issues. Proton Pump Inhibitors (PPIs) are the medications prescribed to reduce acid production in order to manage acid reflux or GERD and some of abdominal pain. However, the PPIs are not always effective in controlling acid reflux and abdominal pain, and produce many other side effects. The combination of PPIs and antibiotics are very effective to eradicate H. Pylori bacterial in stomach, but the bacterial will come back if immunity in stomach is not improved. A patient with gallbladder stone may be quickly sent to a surgeon and is possibly operated in a month. However, many asymptomatic patients may not need immediate surgery, and can be stone-free by changing eating habits and taking natural therapies.
How does acupuncture and Chinese medicine help digestion and other digestive disorders?
Traditional Chinese medicine has long history of treating digestive disorders. It takes into consideration of your symptoms, physical constitution, emotional state, foods and harmony of organs. Since an illness manifests different symptoms in different people, TCM gives it different patterns and treats it differently. This holistic approach is more scientific since digestive dysfunction is caused by many different factors such as infection, types of foods, individual constitution, living environment, etc. Based on different clinical manifestation, different treatments will be adopted. For example, a simple stomach pain has different clinical patterns, Cold Invasion, Indigestion, Liver Qi stagnation, Liver Heat, Stomach Yin Deficiency, Blood Stasis and Weak Spleen. TCM works since it addresses the underlying causes rather than non-selective pain control.
How we successfully treat digestive disorders
Yi Ding Yuan, a medical graduate from Shanghai, has treated a variety of diseases including digestive disorders for more than 30 years. During first meeting with him, you are asked questions regarding your physical and emotional or mental symptoms, your stress, your foods, your medical history and family history. After a thorough consultation, you will be presented an accurate diagnosis and a personized treatment plan including dietary adjustment, stress management and lifestyle guidance. Make an accurate diagnosis is very difficult but is the key of any successful medical treatments. Yi Ding's talent and rich clinical experience helps him improve your condition quickly and effectively, it means that you get healthy sooner and save your treatment cost more. Either acupuncture or Chinese herbs or both modalities are used to correct digestive disorders. Nutritional supplements are often included in the treatment plan.
Common digestive disorders are treated in our clinic:
Stomach pain and abdominal pain
GERD or acid reflux
Irritable bowel syndrome
Indigestion
Chronic ulcerative colitis and Crohn's disease
Peptic ulcers
Gallbladder stone and impaired live function
Expertise in